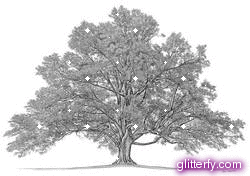 Post prompt is from Randy at Genea-Musings.
1) Read Lisa Alzo's blog post Back for a Fourth Year: Fearless Females: 31 Blogging Prompts to Celebrate Women's History Month on her blog, The Accidental Genealogist. [The post is from last year, but Lisa's using the same list this year.]
2) Choose one of her daily blog prompts from the list (you could choose the March 8th prompt or choose another), and write about it.
3) Tell us about it in a blog post of your own, in a comment to this blog post, in a Facebook post or a Google+ post.
I chose the prompt from March 2 — Post a photo of one of your female ancestors. Who is in the photo? When was it taken? Why did you select this photo?
This photo contains not just one, but 5 female ancestors. There is a 6th women in the photo, but she is related to me by marriage while the rest are all blood related.
The people in the photo are (from left to right, top to bottom):
Harriet (Goodman) Rice, Benjamin Silverstein, Muriel (Forman) Silverstein, Phillip Silverstein, Sarah Silverstein, Rose Silverstone, Ella (Silverstein) Goodman, Mollie (Goodman) Silverstein and Jim Silverstone.
Harriet, 19, is a 1st cousin.
Benjamin, 60, is my maternal great-grandfather.
Muriel, 23, is my grandmother (Bubbie) that just passed away the other week.
Phillip, 26, is Muriel's husband and my grandfather (Zeidi).
Sarah is Phillip's biological sister.
Rose is the sister-in-law of Phillip.
Ella is Phillip's half-sister and my grand-aunt.
Mollie is my paternal great-grandmother and the wife of Benjamin.
Jim is Phillip's half-brother, my grand-uncle and the husband of Rose.
The photo is dated July 22, 1951. She's not in the photo, but my mom was almost 2 months old at the time. It appeared to be a hot summer day in Detroit based on what some people were wearing. I selected this photo because everyone in it seems to be having a great time. They all look very happy and almost like someone told a joke just before the photo was taken.
Extra tibit: Mollie's maiden name was Goodman and Ella married a man with the last name Goodman, but those 2 lines of Goodman families were not previously related to each other. Or if they are I have not discovered it yet.